The poker chips are piled high, your wallet is bulging, and doubling up seems to go on forever. It's every poker player's goal to strike the right combination of luck and strategy, ride the wave, and walk away with a large jackpot. When, however, does winning become suspect?
Who is Mike Postle?
Mike Postle is an American professional poker player who grew up gambling and even invented his gambling-themed games at his family's roller rink.
His passion for gambling and the casino eventually led him to work as a dealer at a local Indian casino, where he discovered he had a knack for analytics, prompting him to relocate to Tunica, Mississippi, where he began to compete in more poker tournaments and work as a staff member at Rounder Life, a poker magazine.
Postle began playing poker at Stones Gambling Hall and participated in their live-streamed poker games on YouTube and Twitch after moving to Sacramento with his wife after the birth of his daughter.
Postle was noted for his cheery demeanor and amusing stories, as well as being competent in gambling and betting games, though not particularly technical, poker player. His proclivity towards winning came around July 2018 after he spent time with the Stones.
In 2018, Postle began his 'heater,' or winning streak in poker, by winning $250,000 from $1-3 and $2-5 no-limit hold 'em games.
Some Stones' locals and others in the poker scene were dubious about his massive wins and long-running hot streak as a result of this.
Veronica Brill, a recreational poker player who likes playing at Stones', made a series of tweets on September 28, 2019, describing why she believed Postle was cheating. One accusing Twitter thread was enough to set the poker world ablaze, and two lawsuits were filed as a result.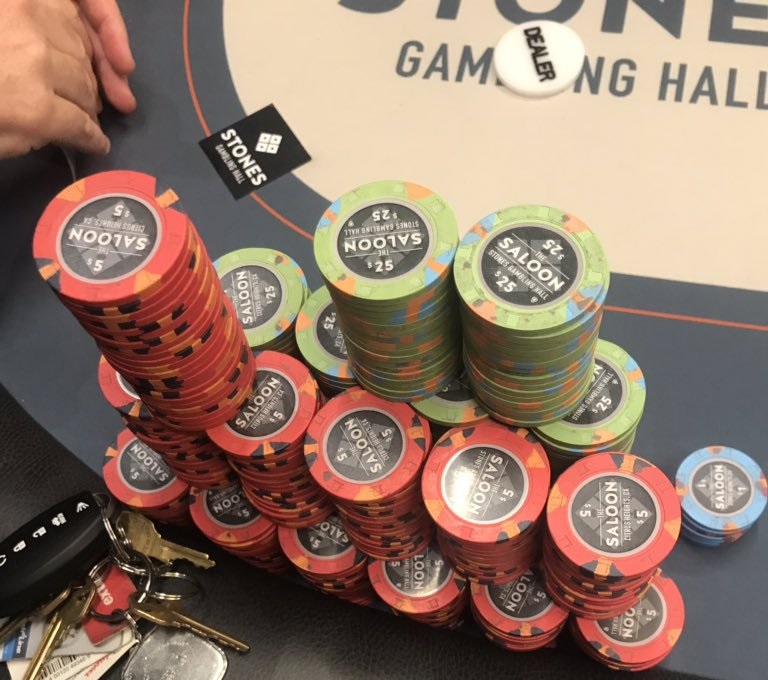 Cheating Controversy: What Happened to Mike Postle?
Players from Vegas eventually flew into Sacramento to play against Postle, and it was during this time that Brill began to notice how Postle was cheating.
Each player is handed their hole cards and five face-up community cards in a game of Texas Hold'em, and they can gamble in between.
The flop is dealt initially (3 cards), then the turn (1 card), and finally the river (2 cards) (1 card). Postle was playing against eight other players when seven of them folded before the flop was even thrown, which is an extremely unusual Hold'em move. Postle and Vegas-based player Marle Cardeiro were the only ones left.
What occurred after that? An 8 of spades, a 9 of diamonds, and a jack of diamonds made up the flop. Postle held a pair of jacks and was one card (a 10) away from a queen-high straight, which is the highest possible hand (8-9-10-jack-queen sequence).
The turn delivered a 4 of spades with two cards remaining. Cordeiro bets $600, and Postle chooses to fold (for anyone not following, statistically, a raise or a call would make the most sense next for Postle).
Cordeiro had a good hand for the game, a ten of diamonds and a queen of spades, and had a queen-high straight before the river. While one commentator, Justin Kelly, hailed Postle for a superb move, Brill had been wary of his heater for a long time, and this seemed to reinforce her worries.
"It's as though he knows what he's doing." It's incomprehensible. It's strange." Kelly ignored her comments and continued to praise Postle's great performance.
Brill had a theory about how he got his victories. For starters, statistics show that even the most competent and technically proficient players (think MIT-educated engineers who play as a hobby or even professionally) lose from time to time.
To put this in context, there are over 2 million conceivable hold'em hands, making forecasting plays and reactions both a science and an art that generally necessitates hours and hours of research and study.
Postle's game reflexes appeared to be devoid of any strategy other than pure instinct and a high VPIP rate. The rate at which a player remains in the game before the flop is referred to as 'voluntarily put in the pot.'
Brill wasn't sure how he was doing it, but she figured he had to know the other players' hole cards. Despite numerous protections in place to avoid cheating, Stones' security was supposedly inadequate, and many people were allowed in and out.
This makes a security breach quite likely. Postle had a habit of looking down at his phone, which prompted even more conjecture. Postle had a 94 percent winning rate while playing Stones' Live Poker Games, which is another hard-to-believe statistic.
Mike Postle Court Ruling
What did the players who had been duped do? They filed a lawsuit. Brill was the plaintiff in the action, which included 80 poker players who played with Postle during live-streamed games.
Mac VerStandig represented Brill as the plaintiff. In total, 14 complaints were filed, including allegations of careless misrepresentation, fraud, negligence per se, in just enrichment, and a RICO claim among them.
In addition to this lawsuit, Marle Cordeiro, his opponent while Brill was commenting on the game, filed her multi-million dollar lawsuit with VerStandig in Nevada, claiming damages and alleging that Postle violated the Racketeer Influenced and Corrupt Organizations Act, negligent misrepresentation, two counts of negligence, and fraud.
Things started to look better for Postle in September 2020, when a Sacramento court dismissed cheating accusations against him, the game tournament director Justin Kuraitis, and the Gambling Hall itself, ruling in favor of Stones' Gambling Hall.
The judge agreed to dismiss their ongoing civil actions stemming from the cheating incident. Cordeiro's case was also dismissed because it was filed in Nevada rather than Sacramento, the location of the game.
Stones reached an arrangement with 62 of the 88 players represented in the complaint after the court ruling, however, the participants signed an agreement stating that no evidence of cheating or other malicious activities occurred (or was proven) during the games.
For one thing, VerStandig does not believe the lawsuit is done, and he plans to pursue all of his legal options in connection with the cheating scandal.
Where Is Mike Postle Now?
So, where does Mike Postle stand these days? Mike Postle's personal life was also in turmoil as a result of the disturbances in his business life. He was involved in a custody battle for his daughter following a tumultuous divorce.
Following the scandal, he chose to remain quiet and spend time with his family until being re-hired by Stones' Gambling Hall, which holds steadfast in its decision to let Postle play and re-hire him.
It's worth noting, though, that the biggest gaming publication that backs Postle and condemns his opponents is…can you guess? The same publication that used Postle on its masthead was Rounder Life. And drew a picture of Jesus with Postle's face overlaid on it. With that, we'll let you draw your conclusions.
As a result of Result SGP site, this time's evaluation may be beneficial to you.
Read More: HOW TO BALANCE YOUR FOCUS WHEN PLAYING POKER