Top 4 Romantic Honeymoon in Japan – Japan is one of the countries in Asia that is widely used as a travel destination by Indonesians. This 4 seasons land is indeed interesting to visit. Not only because of its beautiful nature, the culture in Japan is also interesting to explore further. This country is also suitable for a honeymoon. For those of you honeymooning in Japan, here are some recommendations for fun and romantic honeymoon spots in Japan.
There are so many beautiful places in Japan. In terms of culture, tourist and honeymoon destinations, fashion and interesting festivals. It is not uncommon for tourists who come to be fascinated by its beauty and look for ways to stay there.
Sagano, Kyoto
You can take your partner on a romantic adventure, especially for couples who like adventure. The two of you can take the steam train in Sagano and enjoy a different atmosphere.
The steam train ride takes about 25 minutes. You will find a very nice view of Hozugawa. The atmosphere changes every season.
During a honeymoon visit in the summer, the sound of the summer beetles is very loud. In winter the atmosphere is snowy and you can feel the feeling of riding a steam train through the snow. In spring and autumn, the trees change color depending on the season. This place is also in fact one of the best and most beautiful honeymoon destinations in Japan.
Ashikaga Flower Garden, Tochigi
Ashikaga Flower Garden was named one of the dream destinations by CNN internationally in 2014. April to mid-May is the perfect time to come here. Because this month the Big Wisteria Festival takes place. A festival of flower tunnels formed by the wisteria flowers of more than 350 trees.
Japan is never wrong to be a tourist and honeymoon destinations anytime. Every part of Japan is interesting to learn and explore. You can also spend the best honeymoon destinations with your partner.
Otaru Snow Light Path, Hokkaido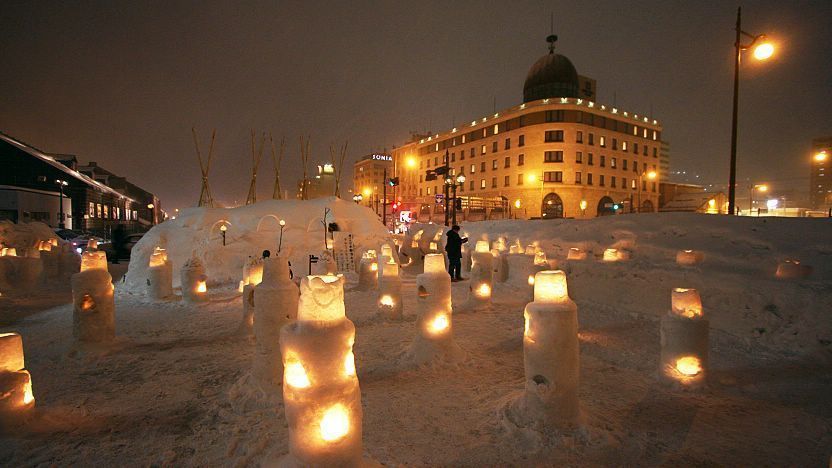 Otaru is a small coastal town on the Hokkaido coast. You and your partner can get there by driving approximately 2 hours from Sapporo.
Otaru City is famous as a romantic city with beautiful canals both during the day and at night. However, it is more advisable to come in winter or winter as Otaru is one of the tourist attractions in Japan in winter.
Why is that? Because there will be a snow festival that will adorn the city of Otaru. The city will be full of glittering lights at night. This atmosphere will definitely be very nice for a honeymoon destinations. Also check out some other Hokkaido tourist attractions that are no less interesting.
Ueno Park, Tokyo
Enjoying the city park together with your partner can also be used as an alternative to cheap honeymoon activities in Japan. One of them is a visit to the Uenk Park.
Ueno Park is a beautiful park and is very close to JR Ueno Station. From there it is only a 3 minute walk and you can enjoy the beautiful view of the park.
The best time to travel is autumn. You can enjoy the atmosphere of the trees turning yellow and red. This park itself is accessible for free so it can give you cheap vacation tips to Japan.
Here are some recommendations for honeymoon destinations and spots in Japan that can be visited with a partner. Immediately determine your favorite destination. Happy Holidays and hopefully useful. / Dy